Festive wishes from all of us at The Dash Charity!



Wishing you all a safe, happy and healthy Christmas and New Year
A message from our CEO
As our 45th year as a charity draws to a close, I of course, like so many
others, reflect on the most extraordinary past 20 months…
COVID had, and continues to have, an enormous impact on all of us,
and our clients especially so. Cases for adults & children sky-rocketed
and we made the decision to give up our office space to free up funding
for additional frontline staff to cope with this. The refuge team adapted to
the new circumstances with lots of additional risk assessments in place.
The Community team adapted to working from home and everything
went online – tough all round.
We absolutely could not have made the impact we have without the
support of our donors, volunteers and wider community, so I wanted to
take this opportunity on behalf of the whole Dash team to say a huge
thankyou to all of you who have helped us over this time.
We will approach 2022 in the same we always have, with determination,
tenacity & passion & very much hope that you will continue to join us on
our journey to ensure Domestic Abuse Stops Here.
LATEST NEWS!

POLICE AWARD
FOR OUR COMMUNITY IDVA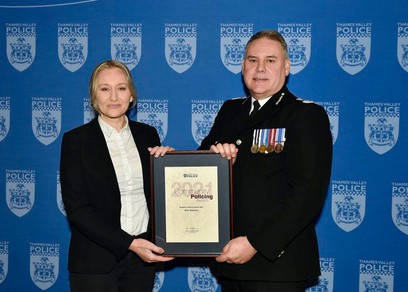 Working closely with our partners is key to making lasting change for families escaping
domestic abuse .Our lovely & longstanding practitioner Mirkawon an award for doing just
this! We provided out of hours support to Police teams across Slough & RBWM to provide
on-the-spot help and support to victims at the point of crisis.
Time matters….victims often only have a small window of time to accept support
and seek safety. This initiative helped us provide support at the earliest possible
opportunity
SANTA CLAUS CAME TO TOWN!
Mother Christmas (COVID Health and Safety meant that Santa couldn't visit
in person this year) visited our sparkly refuge Christmas Grotto to deliver
presents and share some Christmas joy with the children staying with us this
Christmas.
Our little Elves have also been busy in the Community delivering gifts to
families around Windsor and Maidenhead who are also being supported
by our team.
The feedback we have had from families has been amazing and we
wanted to say a huge thankyou to everyone who has donated presents
and other essentials to us this Christmas.
We could not do this without you!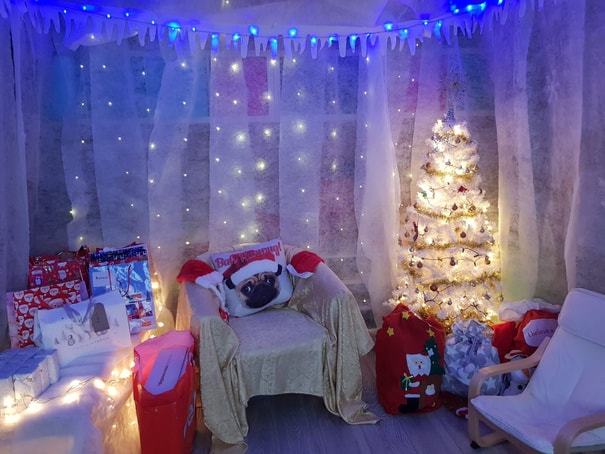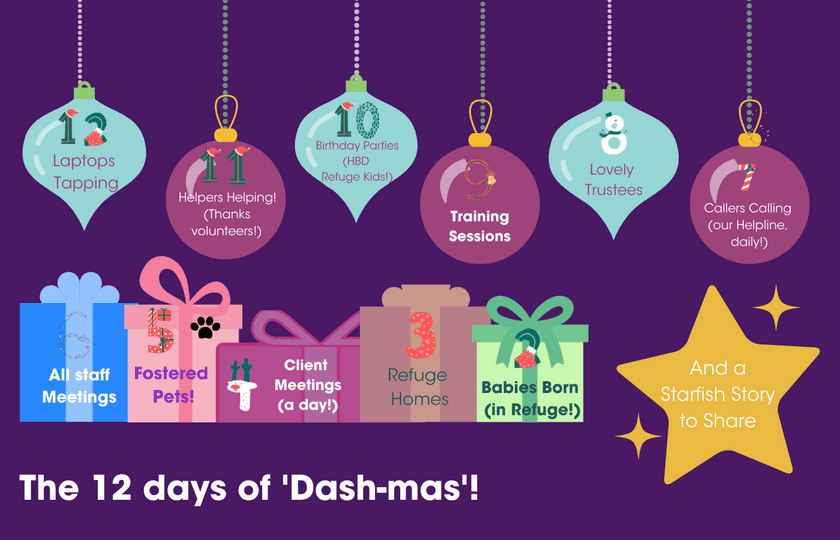 We use the Starfish Story to remember that despite




the enormity of our work, we make a difference




one person at a time.
A man was walking along a deserted beach at sunset. As he

walked he could see a young
boy in the distance; as he drew

nearer he noticed that the boy kept bending down, picking




something up and throwing it into the water. Time and again he

kept hurling things
into the ocean. As the man approached

even closer, he was able to see that the boy was picking up

starfish that had been washed up on the beach and, one at a

time he was throwing them back into
the water. The man asked

the boy what he was doing, the boy replied," I am throwing

these
washed up starfish back into the ocean, or else they will die through lack of oxygen. The man said,
"But you can't

possibly save them all, there are thousands on this beach, and

this must be
happening on hundreds of beaches along the

coast. You can't possibly make a difference."




The boy smiled, bent down and picked up another starfish, and

as he threw it back into
the sea, he replied
"I made a difference to that one"
The voice of a survivor – meet 'Kate'
Kate

is spending Christmas in one of our refuges having fled her home for her own

safety,
She's preparing to move on to a new life, having been working with us for

6 months.
What was life like for you before you had the support of Dash?
Before I came to refuge, my life was a living hell. I had no confidence, I was belittled
constantly. I spent every single day living with stress & fear.
What things did Dash help you with to help you move forward?
I couldn't count them all. A warm, safe welcome, helping me develop my
confidence, fulfil my ambitions & rediscover a healthy, positive daily routine
How has your life changed since working with Dash?
I now have a plan and a future, peace of mind and no stress. I understand
domestic abuse and can recognise abusive behaviours.
What would you say to anyone that might be thinking of contacting
Dash for Support?
I would highly recommend reaching out for support – don't be afraid of
taking that first step, you won't regret it. I only wish I had done it sooner.
Could you think of 3 words to summarise your Dash experience
Hardworking, genuine with a PHD in problem solving!